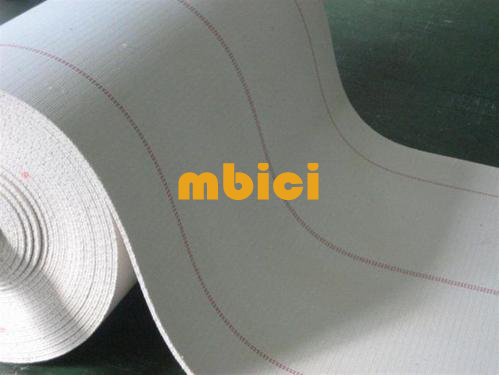 CANVAS BELT..
MBICI CANVAS Belts may be used as a source of motion, to transmit power efficiently or to track relative movement. CANVAS Belts are looped over pulleys and may have a twist between the pulleys, and the shafts need not be parallel.
Since the evolution of using pulley, spindles and frames in the heavy manufacturing units, the acceleration of demand of Canvas Belts has been taking a giant leap turn. The dimension of BPM GOLD Canvas Belts demand has been stretched to the unlimited hike by some eminent and renowned industrialists who have been indulged in the following manufacturing categories.
Textiles

Papers

Pharmaceuticals

Food processing

Engineering and other allied industries
"No compromise with the quality" is the main motto of our manufacturing unit. And for serving this feature, only the excellent quality raw material is considered to procure from the reliable and reputed vendors. The function of Canvas Belts plays a significant role in proper working of heavy or small pulleys or spindles that are the key units of running a machinery or plant. The enormous heavy mechanical pulleys in the manufacturing units and agriculture firms need flat Canvas Belts for transmitting power to regulate the smooth, easy and free of intricate complexities of mechanical procedure.
Meeting customer's desirer is our foremost priority. So, the expert and dynamic apprentice along with world class infrastructure facilitate our expertise to entertain the clients till the attainment of utmost good faith. The principal concern of ours is to justify the customized desire and specifications of the clients. The distinct and striking feature of our Canvas Belts are as follows:
FLAT BELTS

ROUND EDGE

FOLDING EDGE
LENGTH
As per requirement till 200 meters
WIDTH
As per requirement till 1200 MM
COLORS
As per requirement
SIDE PAINTS
Green, Red, Blue, Black, Silver
QUALITY MARKETING SCHEME
Solid woven duck, cotton fabric ply

Lighter, stronger and more durable

Anti-abrasive

Less Elongation, by use of specially treated touch cotton cords

Uniform quality

High tensile strength

Modern testing facilities and equipped laboratory

Reduction in bearing load to light weight
---