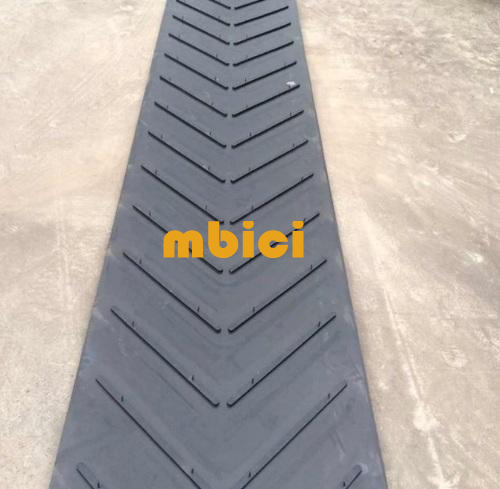 CHEVRON CONVEYOR BELT..
Chevron Conveyor Belts BPM GOLD
FEATURES
Excellent choice for high capacity conveying at steep angles to prevent load slip or product roll back Cleats integrally moulded with the top cover rubber preventing separation from the belt A large range of designs and patterns available Cleats with high abrasion resistance and elastic rubber compounds for flexibility Various cleat heights and widths available depending on the application requirements Unique Pattern design ensures, that, the belt has a smooth run on conventional return idlers, so no modification of the conveyor required. A smooth transition from a conventional flat belt to a Chevron belt can be implemented. Chevron belts manufactures, in all cover grades, viz. Abrasion Resistant M24, HR, OR, FR, White Hygienic, etc.
SOME OF THE KEY APPLICATIONS
Wood Chips
Sand and Gravel
Heavy Duty Scrap Metal
Minerals - Coal and Ore
Materials - Fine Coal and Grains
Waste and Recycling Plants
Road Construction & Crushing Industries
Bagged Materials
Steel Pellets